The Launch and Maiden Voyage

Finally the works phase was at an end and on 14th September 2007 the Stella Noviomagi took to the water.
Following initial trials, on the 29th September the reborn Weinschiff embarked upon its Maiden Voyage to its home berth in Neumagen-Dhron, assisted by the Technische Hilfswerk Bitburg and cheered along the way by well-wishers who'd gathered on the bridges and riverbank along the way.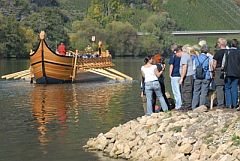 In Neumagen-Dhron expectant crowds celebrated the ship's arrival with a Roman Festival attended by the Minister-President of Rheinland-Pfalz, Kurt Beck, along with other invited guests from the world of local politics, commerce and culture.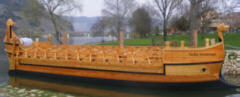 During the remaining good weather of 2007 the Wineship was fully occupied carrying groups of villagers and visitors up and down the river, before being securely tied down and berthed for the coming winter.
Wineship Charter
From Easter 2008 the Stella Noviomagi was once again in commission and may be chartered by groups of up to 38 passengers for trips on the river.
For full details contact:

Juppi Hoffmann
Informationspavillon Römerweinschiff
Pelzersgasse 5-7
54347 Neumagen-Dhron
Tel. 06507 702061 Fax. 06507 702088