Noviomagus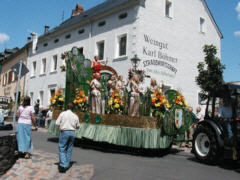 Neumagen-Dhron is one of the communities which make up the borough of the same name, the Verbandsgemeinde Neumagen-Dhron which also comprises the neighbouring communities, Minheim, Papiermühle, Piesport, and Trittenheim. The whole belongs to the district of Bernklastel-Wittlich, in the state of Rheinland-Pfalz.
As discovery site of the famous Neumagener Wineship, and numerous other Roman relics from the 2nd to 4the Century Neumagen has become known as "Ältester Weinort Deutschlands", i.e. "the oldest wine town in Germany".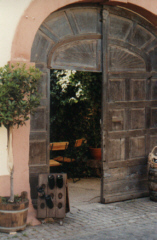 In recent times this increasingly popular tourist destination has been approaching the challenge of the 21st Century with a new-found dynamism and sure-footed confidence. The reconstruction of the Roman Wineship is only one facet of this continuous development.
The Roman Past
The village can look back over an unbroken peiod of habitation of at least 2000 years. The first Roman settlement would have occurred shortly after Emperor Augustus established Trier (Augusta Treverorum, 17 AD), possibly on sites already settled by the defeated celtic people, the Treves.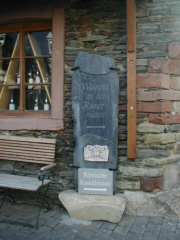 The relics found here during 1877 - 1895 show that the communities of the valley flourished during the first two centuries AD by supplying the growing Metropolis just along the river. During the 3rd and 4th Centuries this economic idlyll was shattered by the increasing succesful incursions of the German tribes, so much so that during the 4th Century, at the command of Emperor COnstantine the Great, the fort of Noviomagus was erected to protect the route linking Trier with the settlements of the Rhine.
♦ ♦ ♦
Road Map →